Embassy & Consulate Legalization/Authentication
We Come 2 You by Appointment, Day or Night, Weekends Too!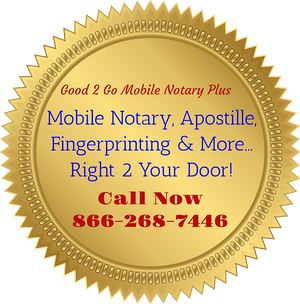 Nationwide Legalization Service in All 50 States
Good 2 Go Mobile Notary Plus Is Your Legalization Expert
Do you need one or more documents to be Legalized/Authenticated by an Embassy or Consulate for use in a foreign country?
Don't know who to turn to or how the process works?
Don't have the time or energy to do it yourself? Look no further…
You've come to the right place!
When a document is to be used in a foreign country, it may be necessary to have it Legalized or Authenticated by a Consulate or Embassy. This process is necessary for countries that are not members of the Hague/Apostille Convention. Documents are typically Legalized/Authenticated by the Consulate or Embassy of the country where your document will be submitted. Legalization (spelled Legalisation in some countries) consists of a series of authentications starting with the Notarization or Certification of your document(s) and ending with the Embassy or Consulate's validation of your document(s). Good 2 Go Mobile Notary Plus makes the Legalization/Authentication process for international documents easy and convenient.
Documents that we typically Legalize/Authenticate include Birth & Death Certificates, Power of Attorneys, Articles of Incorporation, Corporate Documents, Agreements, Divorce Records, Passport Copies, Immigration Documents, Name Change Forms, and more.
Good 2 Go Mobile Notary Plus offers Full Service Legalization/Authentication Processing including document pick up, Notarizing (if necessary), Legalization/Authentication processing, and delivery of your document(s) once the process is completed. Processing options and times vary by state/country and in some cases have been drastically affected by the Coronavirus pandemic. Call 866-268-7443 today and we will gladly advise you of the processing options & times available for your state/country.
6 EASY STEPS TO GET YOUR DOCUMENTS LEGALIZED
Step 1
Schedule an appointment to have one of our Mobile Notary Agents* come to your location to notarize your document(s) and pick up for processing. If the documentatation does not need to be or has already been notarized, we can also email you a shipping label for you to send us your document(s) for processing.
Step 2
We have the signature of the notary authenticated by the county clerk's office in which the notary signature is registered (not required in all states).
Step 3
We have the document(s) Certified by the Department or Secretary of State where the document originated or was notarized.
Step 4
We have the documment(s) Certified by the US Department in Washington D.C. (not required for all countries)
Step 5
We submit the document(s) to the Embassy or Consulate for their officials to Legalize/Authenticate. This formally recognizes the document(s) as valid and legally effective for use in that country.
Step 6
We deliver or ship your documents back to you. At your request we can also ship your documents anywhere in the world.
It's just that easy. We make the Legalization/Authentication process Quick, Painless, & Hassle Free!
We Legalize/Authenticate Documents for the Following Countries NOT Participating In the Hague Convention:
Algeria, Afghanistan, Angola, Bahrain, Bangladesh, Benin, Bhutan, Bolivia, Burkina Faso, Burma, Burundi, Cambodia, Cameroon, Canada, Madagascar, Chad, Chile, China, Comoros, Congo, Cote d'Ivoire, Cuba, Djibouti, East Timor, Egypt, Eritrea, Ethiopia, Gabon, Gambia, Ghana, Guatemala, Guinea, Guinea-Bissau, Haiti, Indonesia, Iran, Iraq, Jamaica, Jordan, Kenya, Kiribati (Tarawa), Kuwait, Kyrgyzstan, Laos, Lebanon, Libya, Syria, Malaysia, Maldives, Mali, Mauritania, Micronesia, Mongolia, Morocco, Mozambique, Myanmar, Nauru, Nepal, Niger, Nigeria, North Korea, Oman, Pakistan, Palau, Papua New Guinea, Palestine, Paraguay, Philippines, Qatar, Rwanda, Saudi Arabia, Senegal, Sierra Leona, Singapore, Solomon Island, Somalia, Sri Lanka, Sudan, Taiwan, Tajikistan, Tanzania, Thailand, Togo, Tunisia, Turkmenistan, United Arab Emirates, Uganda, Uzbekistan, Vanuatu, Vietnam, Yemen, Zambia, & Zimbabwe
A single missed step or blunder in the Legalization/Authentication process can be detrimental to your deadline and bottom line. Countless individuals get rejected daily due to incomplete or improper Legalization/Authentication processing. Additionally, most of our customers dread the idea of running around to multiple government agencies, fighting for parking or riding on public transportation, going through metal detectors, waiting in long lines, buying money orders, dealing with bad attitudes, etc…
We endure ALL the hassles and nuances associated with the Document Legalization/Authentication process so that you don't have to. Don't take chances with someone else or jump through hoops trying to do it yourself. We do it fast and we do it right! With us you not only save time, you also save energy, and money. After all, time IS money.
Our Document Legalization/Authentication service is top notch and the quality of service we provide can't be beat. Not all Mobile Fingerprinting providers are the same so don't be fooled by our competitors. None of them offer the same level of service, knowledge, experience, professionalism, resources, care, or courtesy as us. When you choose to take advantage of our Document Legalization/Authentication services you get the exceptional quality and amazing reliability Good 2 Go Mobile Notary Plus is known for. We are a family-run business that is now in its second decade. Since 2004 we have served thousands of satisfied, happy clients (even some celebrities) who return repeatedly. That's what makes us the "Best in Town"!
Good 2 Go Mobile Notary Plus® is a renowned mobile service provider offering an array of services including, but not limited to notary, fingerprinting**, mortgage closings**, apostille, document legalization/authentication, wedding officiating** and document translation.
Call 866-268-7446 Today to Speak to One of our Friendly & Knowledgeable Representatives or Click below to Schedule an Appointment.
You'll Be Glad You Did!
*It is important to remember that a Mobile Notary is not licensed to practice law, prepare documents or provide any legal counsel. The primary role of a Mobile Notary is to act an impartial witness to the signing of documents and legal forms.
**Not available in some states.