Mobile Fingerprinting
Schedule Your Appointment Today!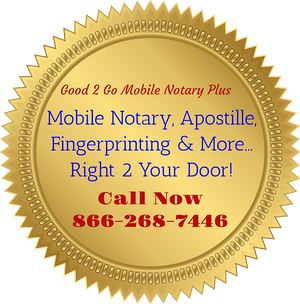 We Come 2 You, Day or Night, Weekends Too!!
Ink Fingerprinting on FD-258 & other Cards
Good 2 Go Mobile Notary Plus provides Mobile Ink Fingerprinting solutions for individuals, small businesses, and large corporations. Our Fingerprint Technicians travel your location equipped with everything needed to take your fingerprints. They can meet you anywhere at anytime. We make it easy and convenient for you to get fingerptinted while eliminating the hassels and nuances normally associated with the process. Our Fingerprint Techs specialize in traditional Ink and Roll fingerprinting (not digital) and have a super-low rejection rate.
While people may associate fingerprint collection with police bookings, there are a lot of reasons to take fingerprints. For example, fingerprints are needed in order to perform background checks for government employees, individuals who work with children, those seeking various licenses and many others. In these cases, utilizing our Mobile Fingerprinting service is much easier and more convenient than going to a police station or fingerprinting center. In fact, more and more police stations are declining to fingerprint civilians. Good 2 Go Mobile Fingerprinting Techs will happily accommodate individuals, small, and large groups in the comfort of their home, office, or any other convenient location.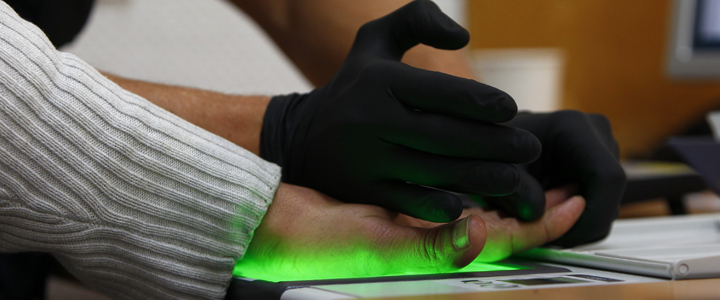 Grouping allows for whole office fingerprinting to be done quickly and conveniently. People can step out for 10 minutes to have their fingerprints taken and then return to work, instead of having to take an hour or more to travel off-site to get fingerprinted. Mobile Fingerprinting for groups can also be useful for safety initiatives. For example, a school might offer parents the option of having their children fingerprinted in order to have his or her prints on file for identification purposes. Having fingerprints and a recent photograph can be especially useful in a kidnapping as this may increase the likelihood of recovery.
No job is too big, small, simple, or complex. There is also no minimum or maximum order. Whether you need 1 card or 100 cards printed, we can get it done. We guarantee our work and your satisfaction. We will reprint any rejected cards free of charge*
We endure ALL the hassles and nuances associated with getting your fingerprints taken so that you don't have to. Don't take chances with someone else or jump through hoops trying to do it yourself. We do it fast and we do it right! With us you not only save time, you also save energy, and money. After all, time IS money.
Our Mobile Fingerprinting service is top notch and the quality of service we provide can't be beat. Not all Mobile Fingerprinting providers are the same so don't be fooled by our competitors. None of them offer the same level of service, knowledge, experience, professionalism, resources, care, or courtesy as us. When you choose to take advantage of our Mobile Fingerprinting services you get the exceptional quality and amazing reliability Good 2 Go Mobile Notary Plus is known for. We are a family-run business that is now in its second decade. Since 2004 we have served thousands of satisfied, happy clients (even some celebrities) who return repeatedly. That's what makes us the "Best in Town"!
Good 2 Go Mobile Notary Plus® is a renowned mobile service provider offering an array of services including, but not limited to notary, fingerprinting**, mortgage loan closings**, apostille, document legalization/authentication, wedding officiating** and document translation.
Call 866-268-7446 Today to Speak to One of our Friendly & Knowledgeable Representatives or Click below to Schedule an Appointment.
You'll Be Glad You Did!
*Travel fees may apply in order to re-do rejected cards.