Mobile Notary
Nationwide Mobile Notary Service in All 50 States. Schedule Your Appointment Today!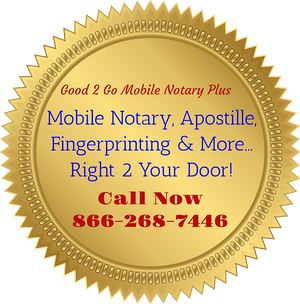 We Come 2 You, Day or Night, Weekends Too!!
Do You or Someone You Know Need a Notary Public?
Good 2 Go Mobile Notary Plus makes the process of notarizing your documents easy and convenient. Our Mobile Notaries* travel to the location of your choice in order to fulfill notarial duties. These typically entail witnessing the signing of sensitive documents, identifying participants, and administering oaths when necessary. Appointments can be arranged at a residence, office, hotel, airport, nursing home, hospital, restaurant, film set, coffee shop, or any other location you request.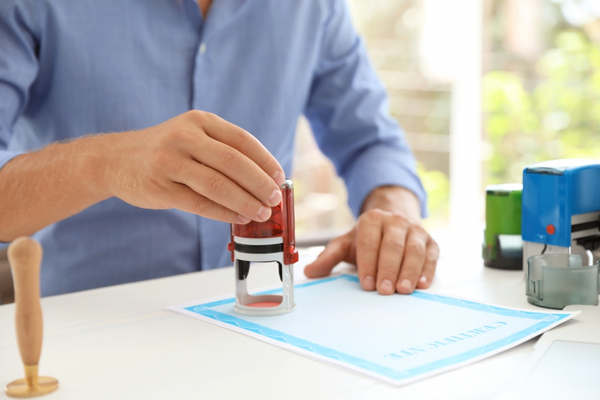 Our Experienced & Professional Mobile Notaries Offer The Following Services:
Witnessing & Notarizing of legal documents including: Affidavits / Power Of Attorneys/ Buy & Sell Agreements / Child Support Documents/ Commercial leases / Mortgages / Deeds/ Guardianship & Custody Documents / Living Trusts/ Partnership Agreements / Pre-Nuptials / Divorce Documents/ I-9 Forms / Authorization for Minor Travel/Passport Forms & much more
Administering of Oaths & Affirmations
Swearing in witnesses for phone depositions and hearings
Witnessing Safe Deposit Box Openings
Wedding/Marriage Ceremonies*
Printing & Shipping
Courier & Delivery Services
Hiring Good 2 Go Mobile Notary Plus is essential for individuals and companies that are in need of convenient mobile notary service during and outside of regular business hours. Our Mobile Notaries are reliable, professional, courteous, and are trained to handle many types of documents and situations. Our customer service is unparalleled. The quality and value of the services we provide are unmatched by any of our competitors.
We endure ALL the hassles and nuances associated with getting your document(s) notarized so that you don't have to. Don't take chances with someone else or jump through hoops trying to do it yourself. We do it fast and we do it right! With us you not only save time, you also save energy, and money. After all, time IS money.
Our Mobile Notary service is top notch and the quality of service we provide can't be beat. Not all Mobile Notary providers are the same so don't be fooled by our competitors. None of them offer the same level of service, knowledge, experience, professionalism, resources, care, or courtesy as us. When you choose to take advantage of our Mobile Notary services you get exceptional quality and amazing reliability Good 2 Go Mobile Notary Plus is known for. We are a family-run business that is now in its second decade. Since 2004 we have served thousands of satisfied, happy clients (even some celebrities) who return repeatedly. That's what makes us the "Best in Town"!
Good 2 Go Mobile Notary Plus® is a renowned mobile service provider offering an array of services including but not limited to notary, fingerprinting**, mortgage closings**, apostille, document legalization/authentication, wedding officiating** and document translation.
Call 866-268-7446 Today to Speak to One of our Friendly & Knowledgeable Representatives or Click below to Schedule an Appointment.
You'll Be Glad You Did!
*It is important to remember that a Mobile Notary is not licensed to practice law, prepare documents or provide any legal counsel. The primary role of a Mobile Notary is to act an impartial witness to the signing of documents and legal forms.
**Not available in some states.